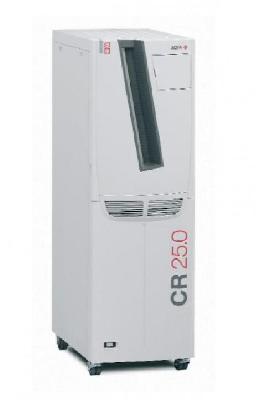 12.05.2019
CR 25.0 Digitizer AGFA
CR 25.0 IS A MULTI-APPLICATION DIGITIZER, BENEFITING FROM THREE DIFFERENT IMAGE RESOLUTION MODES.
Broad range of applications
CR 25.0 is a highly versatile digitizer. It offers an ideal solution for any decentralized CR environment. CR 25.0 can handle General Radiology, Orthopaedics, Dental and Paediatrics. CR 25.0 is also a perfect complement to existing centralized CR systems.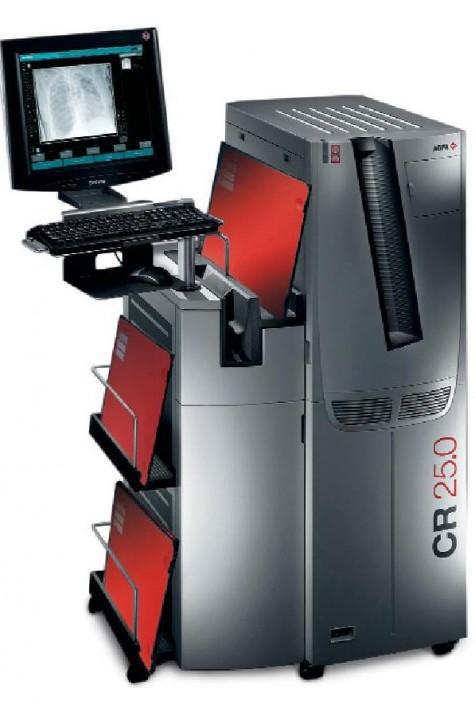 Full data
CR 25.0 reads imaging plates at a standard resolution of 6 pixels/mm. 10 pixels/mm high resolution capability is available for all image plate sizes. 20 pixels/mm resolution is available for dedicated 18 x 24 cm and 24x 30 cm mammography and extremities cassettes and plates.
Small footprint
The small CR 25.0 footprint allows it to be placed easily at any location. Designed with ease of use in mind, it requires only a standard wall-outlet. Together with a universal X-ray shielding, optionally available, theCR 25.0 can be used inside the X-ray room. In combination with a mobile kit, it is also fit for mobile use (vans, ships, military,...).
Universal CR User Station
Optionally, a fully integrated CR User Station is available. The CR User Station is suitable for all CR environments:
- Decentralized CR
(Surgery, Intensive Care Unit, Emergency Room,...) -Personal CR
- In-room CR solutions.
Its modular and ergonomic design includes:
- Cassette identification functions -Space for:
•Workstation for image handling, processing and dispatching
• Monitor, network switches and UPS
• Cassette storage.
An economical way to go digital
CR is compatible with all existing X-ray systems allowing X-ray departments to go digital without significant additional investments and workflow adaptations.
CASSETTE SIZES
ACCEPTED CASSETTE SIZES

SPATIAL RESOLUTION

PIXEL MATRIX SIZE

Standard resolution

35 x 43 cm (14 x 17 in)

6 pixels / mm

2320 x 2826

35 x 35 cm (14 x 14 in)

6 pixels / mm

2320 x 2320

High resolution

35 x 43 cm (14 x 17 in)

10 pixels / mm (option)

3480 x 4240

35 x 35 cm (14 x 14 in)

10 pixels / mm (option)

3480 x 3480

35 x 43 cm

10 pixels / mm

2020 x 4240

(automatic collimation

to 21 x 43 cm)

24 x 30 cm

10 pixels / mm

2320x2920

18 x 24 cm

10 pixels / mm

1720 x 2320

15 x 30 cm

10 pixels / mm

1420 x 2920

8 x 10 in

10 pixels / mm

1950 x 2460

10 x 12 in

10 pixels / mm

2460 x 2970

Mammography and extremities

24 x 30 cm

20 pixels / mm

4760 x 5840

18 x 24 cm

20 pixels / mm

3560 x 4640
TECHNICAL SPECIFICATIONS
GENERAL
Digitizer type
•Single cassette feed
•Throughput: up to 71 plates/h (depending on size and application)
LCD display
•Machine status and error conditions
Greyscale resolution
•Data acquisition: 12 bits/pixel
•Output to processor: 12 bits/pixel
Dimensions and weight
•(W x D x H): 45 x 75 x 141 cm (17.7 x 29.5 x 55.5 in)
•Depth at cassette slot: 73 cm (28.7 in)
•Weight: Approx.: 270 kg
Environmental conditions
• Temperature: 20 - 30°C (68 - 86°F)
• Humidity: 15 - 75% RH
• Magnetic fields: max. 12.60 u.T in conformance with EN 61000-4-8: level 3
• Rate of change of temperature: 0.5°C/minute (0.9°F)
Environmental effects
• Noise level: max. 65 dB (A)
• Heat dissipation: standby 250 W, max. 1610 W
SAFETY
Approvals
• TuV, UL, cUL, CE
Power
• 230 - 240 V/50-60 Hz Standby 250W,
max 1610W, 16A fuse
• 120V/60Hz(USA)
Standby 250W, max 1440W, 15A fuse
• 100V/60Hz (Japan)
Standby 250W, max 1500W, 15A fuse
Transport details
• Temperature: -25 to +55°C (-4 to 131°F),
-25°C for max. 72 hours, +55°C for max. 96 hours
• Humidity: 10 - 100% RH
Ссылка на статьи:
Рентгеновский оцирофщик Agfa CR 10-X
/
Аналоговые кассеты и рентгеновская пленка АГФА
/
AGFA DRYSTAR 5302 рентгеновский принтер
/
Цены на цифровые рентгеновские кассеты AGFA
/
Рентгеновский оцифровщик для маммографии AGFA CR 30-Xm
Похожие статьи
Рентгеновский оцирофщик Agfa CR 10-X
Аналоговые кассеты и рентгеновская пленка АГФА
AGFA DRYSTAR 5302 рентгеновский принтер
Цены на цифровые рентгеновские кассеты AGFA
Рентгеновский оцифровщик для маммографии AGFA CR 30-Xm